I had the pleasure earlier this week to chat to one of Australia's all time great jockeys JIM CASSIDY. The Pumper has had a long and distinguised career to date. He has ridden many great horses like Rough Habit, Tristanagh, Shaftesbury Avenue, Innocent King,Dr Grace, Yippyio, and more recently Might and Power. He has ridden with great success throught out Australia, Hong Kong, Malaysia, Japan and Singapore.
When I caught up with Jimmy on the phone this is what he had to say:-
Hi Jimmy how are you, it's Michael.
Yeah good thanks Michael....
Thanks again for taking part in this interview.
No worries....
Where were you born and where do you live now?
I was born in Wellington New Zealand...and I am now living in Sydney, Arcadia...
When did you realise you wanted to become a jockey, at what age?
Ahhh about Eight....
And why was that?
I guess my size had to do a bit with it, but my mum and dad were racing people, not really a racing background, we used to spend the weekends at the races, so something I always wanted to do.....
Back in Hastings you were an Apprentice to Patrick Campbell, how tough was it back in those days compared to today?
Well certainly the money wasn't as good as it is today, but I suppose it is like everything in life, you've got to have, you know things aren't always that easy you've got to be a little bit tough which it was back then in the early 70's....
I believe you used to ride your bike to work every morning?
I did, I used to ride easy 5 to 6 kms to work every morning and then I would finish about 7am, ride back home and get ready for school and spent a year and a half at school up there, I was up at 3.30-4.00am every morning, started work at 7am, finishing then getting back home then off to school again....
When you won the Melbourne Cup in 1983 on Kiwi I believe you were on a weekly wage of $18.50. Was it hard to fathom back then just how much of a big win it was in the Melbourne up?
Ah look for sure, I had just signed up for another year of my apprentice and as you said I was on about $18.50 a week and a had just won a Melbourne Cup, it was something pretty special....
You must have been a bit of a cult hero back In New Zealand riding a horse called 'Kiwi'!
Well it was an enormous moment to win Australia's Greatest race with a horse called Kiwi, being a kiwi and coming from last and giving them all a start and beating them.....
When you were over in Australia you won 8 Group One's on Rough Habit. One of my favourite horses back in the early 90's, which one of those Group Ones would stand out the most for you and why?
I think the Stradbroke win when he drew the outside barrier.....
Was that the first Stradbroke win or the second one?
The second one, he drew the outside barrier, carried 9 stone, he had a pretty tough task trying to win and he was able to do it, he was just a freak....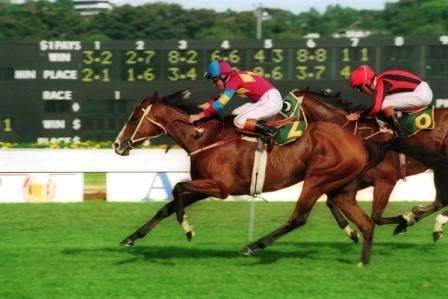 Would Rough Habit be one of your fav horses of all time?
Ah without a doubt...
In 2001 you finally won your Golden Slipper on Ha Ha to give you the Big 4 of the MC, CC, CP and GS. There are now 6 of you that have done that feat, amazing achievement, would that be one of the main highlights of your career to date?
Look for sure, I won the Big 4, I won a Brisbane Derby, a Sydney Derby and a Melbourne Derby. So putting them among the 4 I have won Derby's in each of the 3 main states....
I noticed that when I was doing some research you have won 3 QLD Derby's, 3 AJC Derby's and 2 VRC Derby's. There must be something about you and 2400mtr races?
Well that's what it comes to, a bit of patience, a couple of Melbourne Cups, Caulfield Cups, mile and a half, I like riding over a distance. You have got to get the thinking cap on, judge the pace it's a little bit harder than just trying to win a sprint race....
Ok, Might and Power, when did you realise that he was going to be that good, when was the moment?
I rode him in a 2 win race as a 3 year old against 3, 4 and 5 year olds over 1900m at Canterbury. And I thought his efforts that day were something special. And I always regarded him as a cups horse..
In the 1997 Melbourne Cup when you hit the line Dorimeus was flying down the outside Greg Hall went up as though he had won the race, was there a split second there where you thought 'Oh my God I've been done'?
Yes for sure, well I thought I had done all the donkey work, ridden him a treat and got done right on the line. I wasn't sure. I trotted up to Johnny Letts who was there to interview jockeys after the race, and I said to Lettsy, what numbers in the frame, and he said 3, and I said 'You Beauty'. And it was nice to see Greg Hall celebrating for running second in the Melbourne Cup...
What's the best horse you have ridden that never reached its full potential?
That's a hard one, yeah, Ahh yeah a horse of Gai's I rode as a 2 year old, Untouchable. He never really showed his true potential. I thought he was a very good horse and he went amiss in his lead up race to the Golden Slipper....
What's the best horse you have seen but never ridden?
Makybe Diva. What she did will probably never be done again...
Throughout your long career, who are the 3 best jockeys you have ridden against?
Lester Piggott, .....who else, Frankie Dettori, and.........Ronny Quinton.
In the ranks today, who are the 2 top apprentices coming up that we should be keeping an eye on?
The Berry boys. Tommy and Nathan. They have a lot going for them as their birthday is the same day as mine.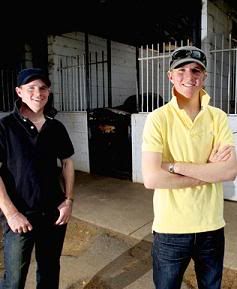 You must feel like the old man in the jockey's room now?
Oh well they haven't got much on me yet!
What's the weirdest sling you ever received?
The smallest sling I ever got when I was promised the biggest won was probably $300 and I gave it back to the trainer and told him to put it back in his pocket and let it grow and give it back to me once it had grown.....
You have been around for a long time, you are a very competitive jockey, what's kept you at the top for so long. Is it your judge of pace, your patience, your quick thinking, your ability to relax a horse?
My love for the game!
When you do finally hang up the saddle, which I hope isn't for a long time, what do you want to do? Would you stay in the Industry?
I'll stay in the Industry weather it's a bit of guest speaking about racing and my life, and maybe train a horse for my wife one day.
OK time for a few quick ones....
Golf Handicap- 13
Fav Movie:- Arthur ..Dudley Moore
Brian Mayfield-Smith: - Very professional, tough boss, but a very good boss. We knocked off TJ Smith, marvellous combination.
Fav Holday Destination:- Singapore
Alltime fav All Black:- A halfback Sid Going. He was a freak. And now it would be Dan Carter.
Nick Moraitis:-Been a great owner, put a lot of money into racing.
Last $100- Look after my 3 daughters and wife and what I had left I would give to my Charity Diabetes.
Who would play you in a movie about your life- My cheeky wife said Basil Faultey.... Ah lets think that's a good one.....probably Ray Murrihy, ha ha,ha
Who would be your leading Lady- Sandra Bullock
When can we expect to see you back-Hopefully by the end of the month.
Jimmy mate thank you very much for taking part I'll send you the link once it is up on the web site. Ringa a Ding Ding you are still the King!!!