This week we get up close and personal with our good mate Skipper. We sat down with a few beers and a prawns at Cronulla Beach to discuss the life, times and thoughts of this great man.
Q. Tell us why you have the username "SKIPPER"?
No real story there..I was tagged as Skippy many years ago, then it shortened to just Skip then morphed again into Skipper..Absolutely nothing at all to do with Gilligan, the Professor, Ginger or even Mr and Mrs Howell..
Q. Where were you born and where have you lived? How long have you been a hobbit living in the Shire?
Born and bred here for better or worse..That's a funny thing about the Shire, people tend to stay put, which is a direct reflection of their complete lack of imagination,sense of adventure and rampant xenophobia..Sad dullards really, and it's highly contagious.
Q. Married, Kids?
Done the married/divorced thing, and three kids along the way, but now living in sin with my beautiful Scottish partner..She says she was initially impressed that I was such a good listener and so very agreeable..Fact is early on I couldn't understand a damn word the women was saying..Is there any sort of lesson there?
Q. What do you do for a crust?
Manufacturing..
Q. What sports did you play as a young fella and what do you do now? Any great achievemments?
All the usuals growing up, years of cricket, soccer and athletics..No great achievements as I was handy at most but exceptional at none..Australian schoolboy athletics (sprinting) is probably my only claim to fame..Always regretted not playing any brand of footy when I was a kid but it just never worked out..Happy these days with the very occassional game of golf and also enjoy the odd game of snooker, both impossible to master but they keep you coming back..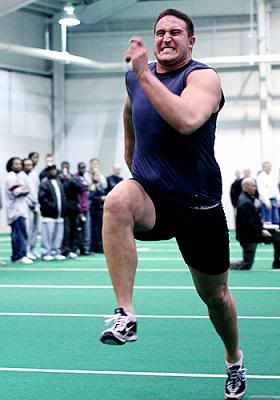 Q. What is your favourite sport team and player?
Very long suffering Sharkie supporter but I tend to look further afield for favourite sportspeople..Always reckon the stories behind the sporting achievements are just as compelling, so in that vein I think the Lance Armstrong story is pretty inspirational for overcoming adversity and the Andre Agassi comeback just as impressive from a sheer work-ethic viewpoint..Any unexpected Aussie Olympic gold medalist nearly always brings a tear to the eye too..
Q. Ricky Stuart has asked for your help in looking for 2 new signings. Who do you target and why?
What the hell, let's blow the salary cap, it's not as though we've got that many competition points to lose anyway..I'd go for Jarryd Hayne (who I wouldn't have given two bob for 4 months ago, and Michael Jennings..Creativity and that word speed..
Q. Who was your childhood hero? And who is it now?
I'd have to say my dear old Mum who singlehandedly raised three rowdy, school hating, sport loving boys. We never had alot in those days, which certainly doesn't harm the grounding process..Not so sure these days Mick, but I know that I always thank God that there's people out there that are more than willing to carry out the social mop-up jobs that I certainly couldn't do - feeding and sheltering the genuinely homeless, the half-way house volunteers or any of those who are always first to respond to personal tragedy..
Q. Whats your favourite holiday destination?
Not sure I've been there yet..Travelled a fair bit throughout Oz but Fiji is as far as I've been outside it..Had a long standing notion to travel through Africa..I like the idea of camping in one of those nature reserves for a week or so..Enjoying a beer around the campfire with lions roaring in the background really does appeal..Maybe even a hot-air balloon ride over the Serengetti..Anyway, after years of haranguing and counter excuse making I'm being dragged by the ear onto a plane for the UK next year..The thought of sitting on a plane for 24 hrs leaves me cold so I guess that will be the test of my travelling bug..
Q. Who would you like to swap lives with for a month and why?
David Attenborough..What a life that old pommy geezers had!!
Q. Powerball just coughed up $2 million, what do you do with it?
Ripper, after years on the punt that would make me about square..Dunno, guess after all the feelgood things that people always say they'd do I'd use it to travel a little more..(if it goes well next year)
Q. Apart from your lovely Scottish lass, which female gets you hot under the collar?
Any of the presenters on Fox's Business Channel..If someones going to break the bad news it may as well be a pretty face..
Q. What do you do with your last $500?
My last $500?..I'm still on my way to making my first!! Dunno Mick, but I guess it would go some way to getting you the bunk by the window and the biggest bowl of soup in one of those joints I was talking about earlier..
Q. What advice did you get growing up that you still abide by today?
Live and let live..Your opinions, ethics and lifestyle choices aren't necessarily right either
Q. All time favourite TV show, Movie and CD?
Not a big TV show watcher so not sure there but I'm a compulsive TV sports watcher (jeez, this is hard)..Movie, I'm a bit of a sucker for the massive hollywood epic so I'd say Braveheart and maybe something like Gladiator at a pinch, but the kid in me really enjoyed the lightweight fare of Jurassic Park and King Kong..Very moody with the music though which can span from Guns n Roses to a bit of layed back country like Garth Brooks..John Fogerty is a BBQ favourite as is Aussie favourites like Oz Crawl, Cold Chisel, H and C's. Paul Kelly etc
Q. Whats your favourite beverage and food?
Strictly a beer drinker unfortunately, just never acquired the taste for wine or spirits..Very easy with the tucker, I'll eat just about anything (hey, doesn't even have to be fresh) but doubt you can beat a good seafood spread..Funny as you get a tad older things really are all about the chow, holiday travel is planned around it, accomodation is booked taking it in to account and eyes are always zeroing in on any new restaurants etc..Luckily I'm not at that stage yet..
Now time for a few quick ones, what comes to mind......
Cronulla Sharks...A lifelong test of character
Kevin Rudd..Identity crisis. Not sure even he knows who he is yet..
America...A work in contradiction..
Mathew Johns...Unfairly defined by a momentary lack of judgement..
Childhood...Barefeet, dragsters, weathered cricket bats, sleepovers, Mr Whippy
Getting old...Nasal hair trimmers, pulling a muscle putting socks on, impatience, no demerit points, bed..
J.A.S.B...Tracksuit pants, footy socks and an old flannelette shirt..