ExceedAndExcel wrote:
ExceedAndExcel wrote:

Qtr time and the over/under is now around the 168.5 mark. I guess Brooke/Redemption is hedging. Well pretending to anyway.



About 4 min ago - just after 2nd term began.



Low scoring qtr now he over/Uber is ito around 157.5.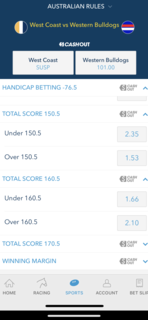 Now for the uninitiated this is what is going to happen regardless of whether it goes over or under the original total:
You will not hear of any hedging strategy from Brooke before the game is either over or the result is known.
If it ends up going under the original total then Brooke will come and say she didn't hedge at all or only hedged a little and still made a good profit.
If it ends up going over the original total then Brooke will come on and say she hedged at some point and was able to either lose nothing or only take a small loss.
Whichever way it goes you will not hear her give and specific bet amounts or see any screenshots of the bet slips. Why? Because it is all make believe fantasy.